Description
Many divers credit Halcyon's streamline P-valve as being among their best equipment purchases. The enhanced comfort and peace of mind redefine one's diving experience. Works perfectly with the She-P.
The package contains: one Halcyon Balanced P-valve, a manual, a tube Aquaseal glue, a metal tool, some sandpaper and a small flask that you can use for cleaning liquid.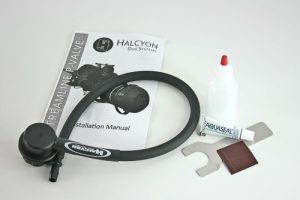 More information about the Halcyon Steamline P-valve you can find here.
This webshop is based in the Netherlands, from there your products will be shipped 🙂