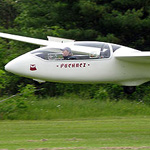 Gliders are like giant greenhouses in the bright sun – we need a lot of hydration, so having relief options is a must for long flights. Most modern gliders have the relief outlet inside the cockpit that vents outside, so it is just a matter of putting She-P on and adding a hose to connect to the built in glider relief system. Worked like a charm on my flight!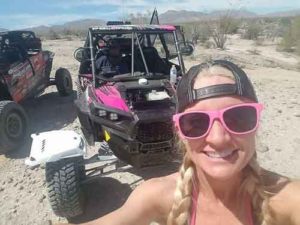 This post is for all of the female racers out there that are jealous of the guy's catheter system and have been looking for an option besides dehydration, diapers, or the disgusting option of just sitting in your own pee the entire race! The SheP is by far the best option to choose when you've "got to go" during a race! I have been wearing one every race including the 2016 Baja 1000 that I ironwomanned. It enabled me to stay in the race car for 23 hours; it worked so well and never leaked.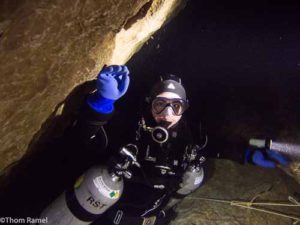 Yesterdays She-P training field: A cave in the Swiss Mountains. There is a small lake on top of the waterfall and behind that is the cave entrance.

In order to get all our cave gear down there, back up again und complete the surface intervall, we climbed down and up again eight !! times in total. The "path" can be seen on the close up picture, its on the right side, starting to go up on the upper side of the waterfall. LOL, there is no path, you have to rope up and down 😉.

Even though I didn't have any leakage for months, I was curious to see if the She-P would stand up to these conditions: 15 hours in my She-P including four hours of car ride, a lot of climbing and heavy lifting,roping down over rocks, two dives. Well… it did! I'm so happy and thrilled.

Thank you Heleen and Laura for all your patience, time and effort in developing and improving the She-P. It's so simple, but it changes everything!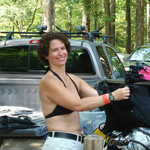 The She-P has made my diving days so much better! I can drink plenty and have no worries! I'm not in a mad dash for the bathroom when I surface, and I never have to worry about diapers. Of course, nothing beats the look on the face of new dive buddies when they see me bend over to "plumb up", just like one of the guys 😉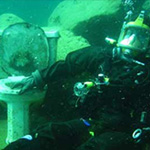 What would you rather use the She-P or this toilet? No Brainer…the She-P!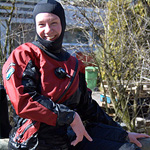 She-P is a great invention! I do not only use it for longer dives, it is also very nice when doing more than one dive a day. So I don't have to take off my drysuit between the dives 🙂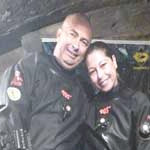 I'm extremely happy with it. It took my dives to another level. I'm finally free of those terrible geriatric diapers.
After a while you don't even notice that you are wearing your "she-p", neither underwater nor out of the water -You can normally drive your car, load and unload you dive gear and … pee underwater – hip hip hurrrrray!!!!! : )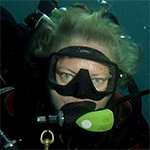 I would like to say thanks for a great product.

I have used She-P since 2009. In 2009 I was the only female technical diver in my dive club and one of three technical divers in total (well a small club). Anyway, this great invention has helped me during the really long dives. More importantly, I use it during long days in small boats filled with guys. With She-P I can pee when I need to and feel totally comfortably. She-P has also been great when working as a scuba instructor. Now I can stay in the water for hours with the beginners coming in to the water two at a time. It really saves time not having to go up to 'go'.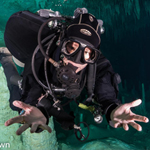 "What? I told you not to swim behind me!"

I'm definitely a happy she-p user, so thank you for inventing them
and it was nice to meet you (briefly) in France last year.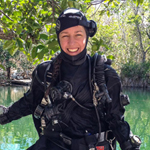 I spend a lot of hours underwater and a lot of hours taking photos. The freedom to be creative with my underwater photography only comes with the freedom to pee when I need to. I love my She-P!
And here are more pictures of our happy users!
More useful links
I still have a smile on my face thinking about how I came to learn about She-P… The Scuba Diver Girls dive cold water a lot and we always complain about the chilly entry and then the numb fingers and toes upon our exit. But in all the complaining we always get our giggles over the instant warm up we get when we pee in our wetsuits! We have continuous jokes about our moments of 'P'….

Read more